Transportation Solutions in North America
Opened since 1994 we are a team of dynamic and proactive professionals trained to co-ordinate your shipping needs. We have formed a strategic alliance with our base of road carriers for LTL or TL shipments in Canada and the United States.
We are committed to providing excellent service in the field of transport. We have acquired over 30 years of experience in the industry between Canada and the United States. Our mission is to give you quality service, conduct business fairly in a professional manner while providing competitive market rates.
The Importance of Personalized Service
We have experience in domestic and international transportation for LTL and TL.
Our C.S.R. will monitor and track your shipment from time of pick-up to delivery.
Electronically track shipments
Provide order confirmation
Carrier confirmation
Email confirmation to the customer
Dynatrans Logistics can identify your transport needs and offer you competitive rates.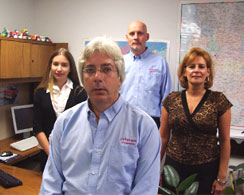 Logistics and transport
It is very important to find the best delivery route for each type of product, as well as the appropriate packaging that guarantees the safety of the goods at the best possible cost.